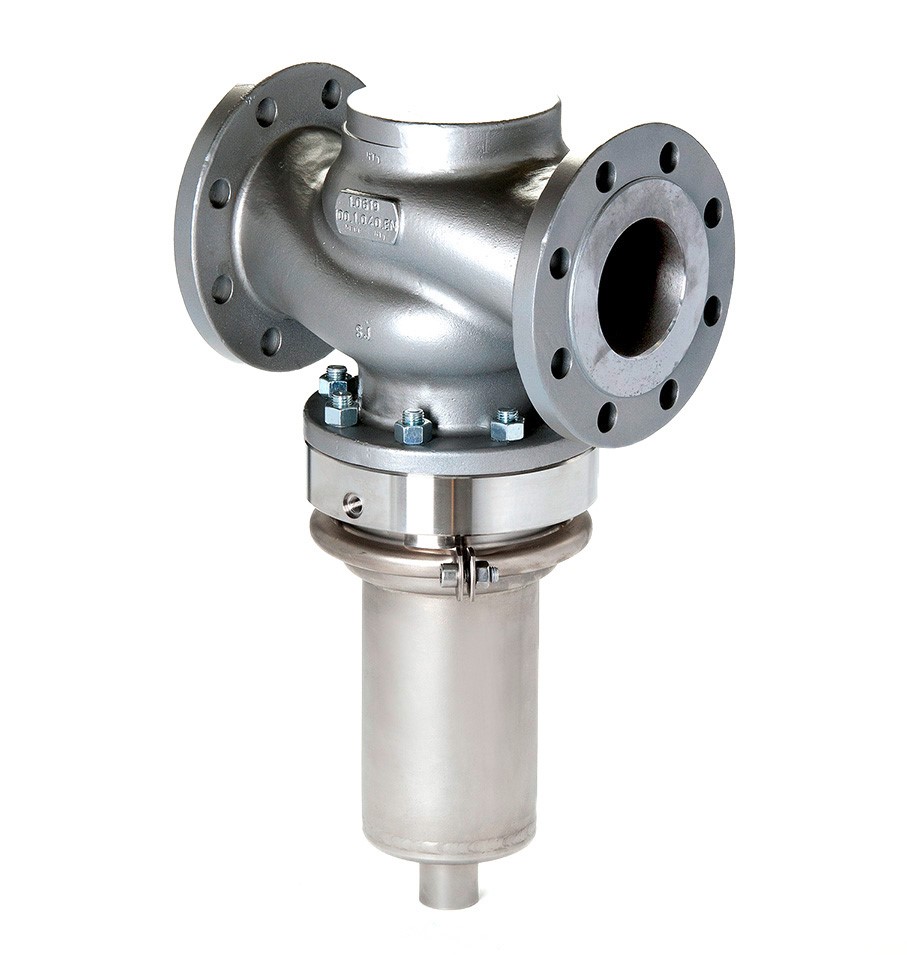 Cast pressure reducing valve for liquids and gases
The pressure reducing valves DM618 are single-seated globe valves for high flow rates with balanced plug according to EU or ASME standard. Available in a very compact version for gases and liquids with soft seal or for steam with intermediate piece and metallic valve seal.
Dank konsequenter Weiterentwicklung unserer seit Jahrzehnten bewährten Druckregelventile wurden Preis und Lieferzeit erheblich reduziert und das bei verbesserter Basisausstattung:
Body made cast iron (1.0619 / A216-WCB)
Internal parts made of stainless steel (1.4404 / 316L)
Closed bonnet mede of stainless steel (1.4404 / 316L)
Leakage line connection
Balanced cone
High control accuracy
Simple setpoint adjustment
Kein Ausgleichsgefäß nötig, einfache Montage
Available according to EN and ASME standard

General data:

Nominal size: DN15 - DN100
Nominal pressure: PN16 - PN40
Kvs: 4,5 – 110 m3/h
Seting range:
Temperature:
Body material: 1.0619,1.4408
Trim materials: SS 316L
Equipment features of the DM618 series
The low overall design height in combination with a cast steel housing, the modular design and a very attractive price make the DM 618 series interesting for many areas of application.
The new pressure reducing valve is available in nominal sizes from DN 15 to DN 100 or NPS 1/2 - 4. As standard, the pressure reducing valves are supplied with a cast steel housing (1.0619 / 1.4408).
Users get a robust and low-maintenance regulator that allows inlet pressures of up to 40 bar (EN standard) or 51 bar (ASME standard) and has favourable flow dynamics.
Internal parts that come into contact with the medium are made of corrosion-resistant stainless steel (1.4404 / 316L).
The stainless steel closed bonnet also offers complete protection against contact with the spring and can also be used for hazardous or flammable media thanks to the leakage line connection and sealed adjusting screw.
Due to the compact design, the overall height of the valve has been significantly reduced and without any restrictions on the flow value is around 20 percent less than that of competitors.
Thanks to the non-rising adjusting screw, precise and simple set point adjustment is guaranteed. The perfect function of the controller can be easily checked during operation by touching the adjusting screw.
Matched control areas and springs ensure high control accuracy and minimal control deviation. The built-in balanced piston makes the valve almost independent of the inlet pressure.
Thanks to the modular design, the pressure ranges of the valve can be quickly adapted to changing conditions. The clamp system and a new innovative plug-in pack enable convenient maintenance. If the pressure range needs to be changed, a simple drive change is possible at any time.
The valve thus meets the highest customer demands and unlike ductile iron valves, can also withstand higher pressures.